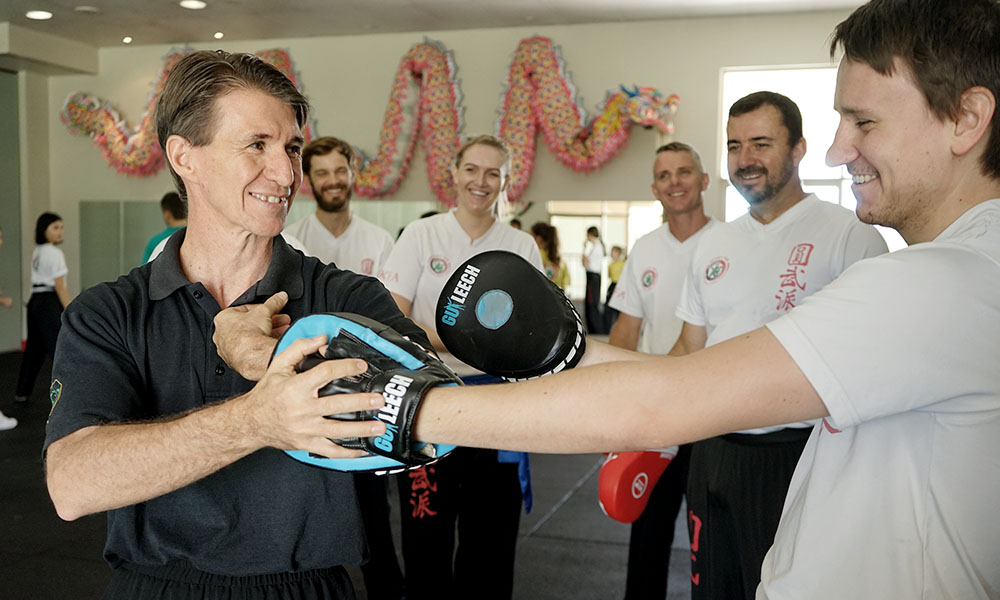 What is the ideal Martial Art for you?

In the modern day arena of martial arts there are so many to choose from. How do you know which one is right for you? There are so many questions to ask yourself:
Which one suits your body type, your mental outlook, or the values and beliefs you live by?
Do you want a traditional or modern martial art?
Are you interested in the fitness, the self defense, or the longevity in your art?
Do you want a sport based martial art or a classically taught one?
Are you keen to endure hard work, pain, and being hit?
Would you rather non contact?
Are you happy for your teacher to be more interested in the administration and counting numbers or one that takes a vested interest in your progression and trains alongside you as they teach you?
Do you want a teacher that claims to practice what they preach or one that visibly lives a lifestyle steeped in the physical practice, mental and moral codes, and spiritual development?
Do you want a teacher that wants to talk more about their certificates and trophies or one that wants to talk about your goals and aspirations?
Do you want to feel comfortable asking questions, or do you prefer an ego driven, testosterone fueled, aggressive, ask no questions teaching format?
Do you like the idea of a dark and dingy, sweat smelling school, or would you prefer one that is well looked after and reflects the state of the teachers thinking in a different way?
There is so much to consider, and most of it is something only you can decide. None of it is right or wrong, but is just a decision on what fits you best, gives you the most reward, and makes you happy. Sadly, it might have to come through much trial and error before you find the right fit.
To help you determine if we are the right club for you, here is what we provide to our practising members at FitLife Martial Arts:
Traits of a traditional martial arts, often absent from modern day schools – integrity, respect, kindness, etiquette, trust, loyalty, etc…
A supportive, ego-free and friendly training environment – more akin to a community group. Training with us will give you a true sense of belonging.
A head instructor of 25 years martial arts experience – plus multiple assistant instructors with experience ranging 5 years to 10 years+.
A local club that has been servicing the community for 15 years.
Priceless learnings at an affordable rate.
You don't just get an instructor. You get a teacher, a mentor, a counsellor, a shoulder to cry on, a health advisor, a life coach, a friend, and much more.
A community of like minded people, looking after each other. Build a new network of loyal friends. 
What would you give to build the confidence and can-do attitude that will make you successful in both your personal and professional life?
You are not the only one that benefits either. Having you train with us is a baby step towards us being able to grow and influence our teachings of integrity, respect and etiquette within the local community, to the benefit of all.
Are you looking for a club that will respect you and have your best interests at heart. Somewhere that is focused on assisting you on your journey, not dictating what it should be?
We have students that travel long distances just to be part of our club so that they can immerse themselves in the culture that we have built.
Learning a martial art is a two way street. From the teacher's perspective, their time is an investment in others, so there are types of students that they would much rather spend their time teaching. Again, no student is going to meet all of these and they are neither right or wrong. But it is useful to think about what type of martial art student you want to (or are going to) be.
We want to attract people who:

Have the free time to commit to gaining the benefits our arts have to offer
Like to share, and are constantly active in sharing their positive experiences with others
Have many friends and like to get them involved in the things they like to do (they are natural leaders or influencers)
Look at what we can offer them, not just what it costs them
Like to get involved and help out. They understand and believe in giving, not just receiving
Understand that their learnings are truly priceless
Are always looking at 'what else' they can do, and like to try new things. They are always on the quest for greater skills and knowledge.
Value traits like honesty, integrity, respect, fairness, kindness, loyalty and etiquette.
Desire more of the things they like to do. They immerse themselves. They want to accelerate their skills and knowledge
Once having that feeling of belonging, are eager to treat the club as if it were their own, finding ways to involve themselves and use their skills to grow and improve the club.
Want us to treat their child as if they were one of our own. Fairness is a big part of our mantra. We don't expect anything of their children that we wouldn't expect from our own children, or even ourselves.
It can take time to find the martial art teacher, style, and school that suits your needs. But once you find them you can have a lifelong connection to someone who deeply cares about you and your success. You will gain a second family that feels the same way. You will have the opportunity to develop yourself physically, mentally, emotionally, and spiritually for a lifetime.